Advantages of Yun Jung Do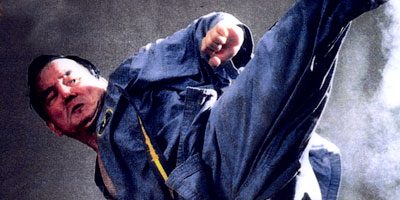 Since Yun Jung Do's establishment in 1990, this art form has successfully managed to pioneer new directions in the field of martial arts.
Not only does it set out to challenge the field, but it has introduced revolutionary concepts that pushes the boundaries of martial arts to new dimensions.
Yun Jung Do primarily seeks to address the many issues that are hindering the continuing development of the martial arts, and fearless makes changes necessary to allow for maximum development of the individual practitioners.
The main advantages which form the strengths of Yun Jung Do.
 Yun Jung Do sets new standards as a human art. Under the leadership of an authentic and innovative Grand master, it encompasses much more than just the physical benefits of present day martial arts. It offers integral human development - mentally, physically and spiritually with an emphasis on the moral and ethical development of the practitioner.
 Yun Jung Do incorporates the latest advancements in physiological and scientific research and knowledge. Technically, it offers the most logical, effective, and practical self-defence skills of today that allows the students to develop to their maximum potential without any restrictions.
Yun Jung Do is not a sport and is non-competitive with others. It remains true to the original philosophy of that the martial arts is a competition with oneself rather than the opponent.
 Yun Jung Do is based on a non-contact learning and teaching system. Its unique syllabus and teaching systems allow students to learn effective self-defence skills without the fear of injury.
Yun Jung Do is non-political. It is free of political influences and interference that may hamper the progress of the art and organisation.
Yun Jung Do Career Opportunities. Yun Jung Do offers exciting career opportunities for professional Yun Jung Do Instructors.